Message From the Chairman and CEO
Dear Fellow Stakeholders,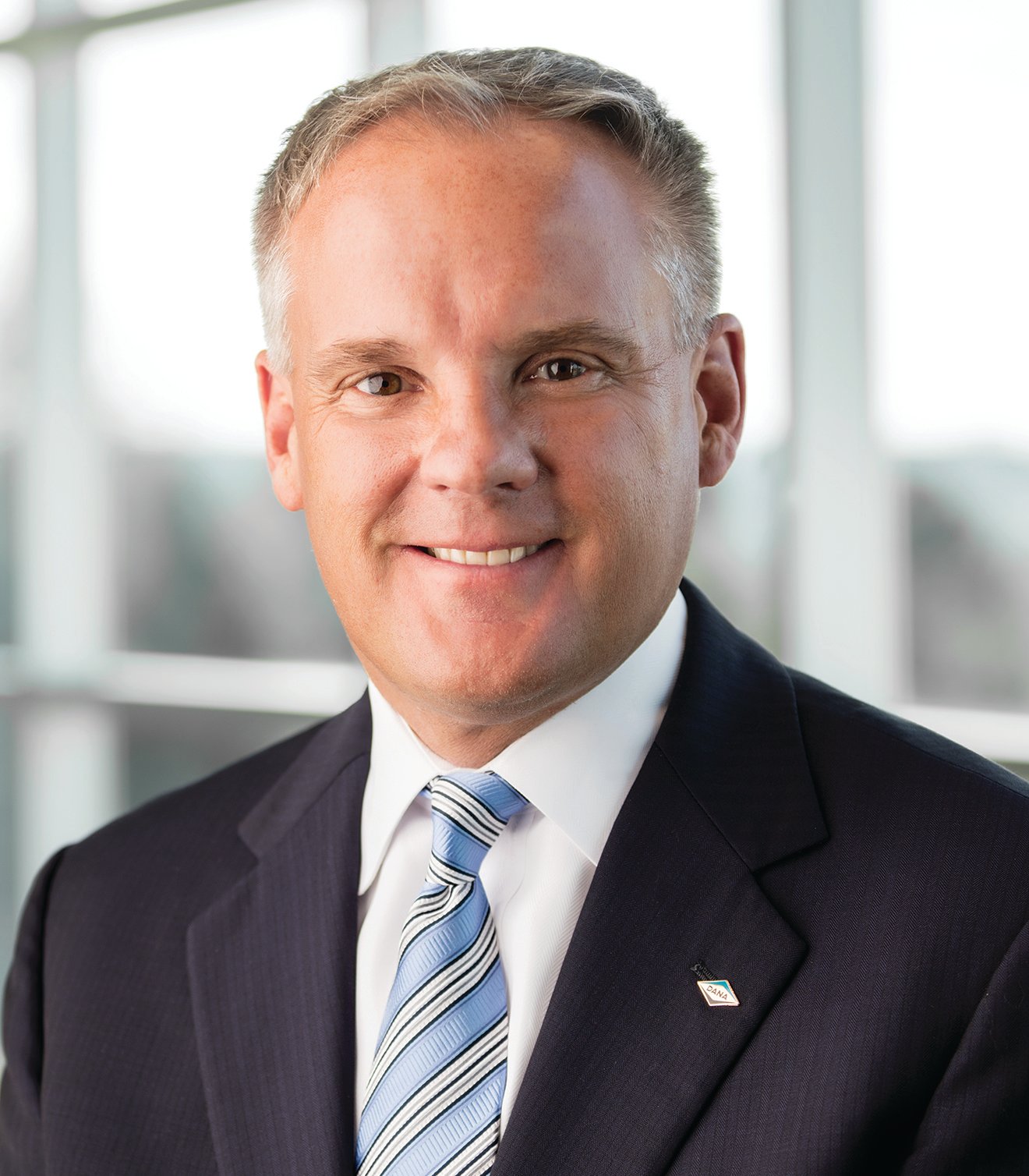 We never lose sight of our guiding vision toward a zero-emissions future. This has powered Dana's first-mover advantage in electrification.
At Dana, we recognize that climate change is one of the most significant challenges of our time.
Sustainability is no longer on the agenda. It is the agenda.
That's why you can hear the gears shifting. Investors, customers, and employees want a long-term strategy that considers sustainability in every process.
But taking action toward sustainability is not just about doing the right thing — it's about creating a better future for ourselves and future generations.
Change begins with action. It is why we committed to be net zero by 2040, and why we are accelerating the reduction of Scope 1 and 2 greenhouse gas (GHG) emissions — with plans to achieve a more than 75 percent decrease by 2030.
It's why we closely benchmark and monitor our supplier base to improve the sustainability performance across our supply chain — including analysis of global Scope 3 GHG emissions — and why we score our suppliers based on their ESG rating.
It's why we operate near our customers all around the world, reducing carbon footprints through shortened delivery distances.
Taking Action
The details here matter because they add up to meaningful, substantive progress in our work for the planet. At Dana, we believe in making bold commitments, setting measurable goals and achieving them.
We are also committed to achieving targets using a science-based approach.
After the Science Based Target initiative (SBTi) validated our 2022 climate commitments, we initiated a revised SBTi validation process for our 2040 net zero target and other climate actions.
We are proud to partner with SBTi's member organizations — Carbon Disclosure Project, United Nations Global Compact, World Resources Institute, and Worldwide Fund for Nature — to drive sustainable best practices and lead the way to a zero-carbon economy.
In reporting annually to the Carbon Disclosure Project, a global platform working with organizations of all types to drive positive environmental changes, we support their important mission to collect, measure, and reduce global GHG emissions.
We also joined the United Nations Global Compact, focused on implementing ten principles that address important action for human rights, labor, the environment, and anti-corruption.
With respect to renewable energy, our United States wind facility became operational in December 2022 and is now generating approximately 300,000 megawatt hours of renewable electricity annually, offsetting 100 percent of Dana's emissions from purchased electricity in the United States and Canada.
We also completed a renewable power purchase agreement with Enel Green Power for an upcoming solar project in Spain. The agreement, commencing January 2025, will supply Dana with approximately 240,000 megawatt hours per year of renewable energy, offsetting 100 percent of Dana's emissions from purchased electricity in Europe.
Our people place a focus on customer success.
To embrace the art of the possible.
Innovation. Here for it.
In a year where the technology we make touched more lives than ever, Dana teams never stopped innovating to protect the planet.
Dana technologies have won the Automotive News PACE Awards five times and been named as finalists on 24 occasions — recognizing our pipeline of innovative driveline, sealing, thermal, and digital solutions.
Across all our actions at Dana, we never lose sight of a guiding vision toward a zero-emissions future.
This has powered our first-mover advantage in electrification. We strategically invest in technical competence — designing, engineering, and manufacturing the components of a complete e-Propulsion system in-house.
Further, 65 percent of our new business backlog now comes from innovating next-generation clean-energy technologies.
The electric powertrain in a vehicle can be compared to the human body where system components work in a highly sophisticated and integrated manner to ensure optimal performance.
When we talk about e-Propulsion, we refer to the complete electric driveline as a 4-in-1 system. Here, Dana's e-Motor is analogous to the heart, providing the power required for movement. Our inverter acts as the brain, controlling and coordinating the flow of electrical energy.
Dana's e-Thermal management technology can be compared to the circulatory system, regulating temperature and distributing heat. Finally, Dana's core mechanical torque transfer capability, built on our foundational businesses, can be thought of as the muscle.
When you put all this together, Dana is the only supplier that has in-house capabilities to deliver such fully integrated systems to the entire mobility market, anywhere in the world.
This is a fundamental differentiator in supporting adoption of EVs. We have completely repositioned the business to support our customers' clean-energy priorities.
In 2022, we were selected to support fully integrated e-Propulsion systems for all-new EV programs for global vehicle manufactures across all mobility markets.
Dana continues to differentiate in customer confidence and satisfaction evidenced by Dana TM4™ electric motors exceeding 2.8 billion customer miles (4.5 billion kilometers) driven in our Commercial Vehicle segment alone.
Further, 65 percent of our new business backlog now comes from innovating next-generation clean-energy technologies.
Such innovations include efficient EV systems and new electrodynamic products like motors, inverters, controls and software, battery cooling systems, and metallic bipolar plates for fuel cell applications.
We value others. That's powerful.
120 years ago, Clarence Spicer opened the doors to Spicer Manufacturing. His partnership with Charles Dana — our company namesake — matched Dana's business acumen with Spicer's innovative genius.
The rest, as they say, is history.
---
This idea of teaming up to make a better world — of winning together — underpins everything we do at Dana.
---
We are 42,000 people in more than 30 countries and truly at the center of a world in motion.
During 2022, we were named among "America's Most Responsible Companies" by Newsweek for four consecutive years, reflecting our culture of doing business with the highest ethical standards.
Echoing this theme, we were recognized as one of the "2023 World's Most Ethical Companies®" by Ethisphere, a global leader in defining and advancing the standards of ethical business practices. A total of 135 companies spanning 19 countries and 46 industries were recognized — with Dana as one of only eight honorees across the mobility industry.
These acknowledgments celebrate our company's unwavering commitment to business integrity, to operating the business the right way.
They spotlight our dedication to sustainability and social responsibility, our communities, employee health and wellness, and inclusion and diversity. They also illuminate the work we do around the design, sourcing, and manufacturing of clean-energy products.
It's One Dana
Above all, our people place a focus on customer success. To embrace the art of the possible.
We create empowering environments for our employees through our "One Dana" teamwork and people-first practices.
This has led to recognition by Newsweek as "America's Greatest Workplaces for Diversity 2023" and from the Top Employers Institute and the Great Places To Work Institute.
These awards reflect the performance of Dana's operations in Belgium, China, Germany, Hungary, India, Italy, Lithuania, Mexico the Netherlands, Sweden, Switzerland, the United Kingdom, and the United States representing more than 80 percent of our employees and sales.
What gives me hope is a mindset of resiliency that underscores everything we do across Dana. Creating more sustainable practices that strengthen our changing world.
It is a privilege to witness their remarkable talent. I am humbled by their work and grateful for their contributions.
My personal best,
James K. Kamsickas
Chairman and Chief Executive Officer