Innovation and Technology
Dana energizes fuel cell components with more than 20 years of research
In addition to traditional and electrified products, Dana is a market leader in the supply of components for hydrogen fuel cell engines. Drawing on our global production facilities and more than 20 years of research and development at our worldwide technical centers, we engineer and manufacture product solutions to meet the exacting requirements of our OEM customers, including fuel cell stack bipolar plates, and balance of plant and hydrogen reformer components.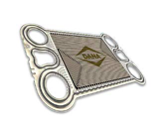 Dana's bipolar plates with integrated seals and coatings offer reliable, low-cost product solutions for advanced fuel cell engines. Our stack components include either metal or molded composite plate materials, specifically designed and tested to meet a wide range of fuel cell applications. And, our technology innovations in precision stamping, laser welding, composite molding, integrated seals, and in-line coating have been applied to create superior product value. Designed for manufacturability and production ready today, Dana's bipolar plates deliver increased performance and reliability at a lower system cost.
Lightweight, energy-efficient balance of plant products including thermal- and water-management subsystems are a key priority in advanced fuel cell engines. Dana's state-of-the-art designs provide enhanced product performance with reduced parasitic energy losses to meet light-vehicle OEM fuel efficiency and life expectancy goals.


Dana collaborates with industry partners in INSPIRE and autostack core on fuel cell stack development.