Innovation and Technology
Bond and Beyond: Electrifying the World
Richard Strong, engineering manager, based at Dana TM4 Chudleigh, United Kingdom, talks 007, his passion for engineering, and the surge in collaborative innovation following Dana's acquisition of Ashwoods Electric Motors.
In a famous scene from Skyfall, James Bond adjusts his cuffs, gives his trademark thousand-yard stare, and jumps for a speeding train in pursuit of villain Raoul Silva.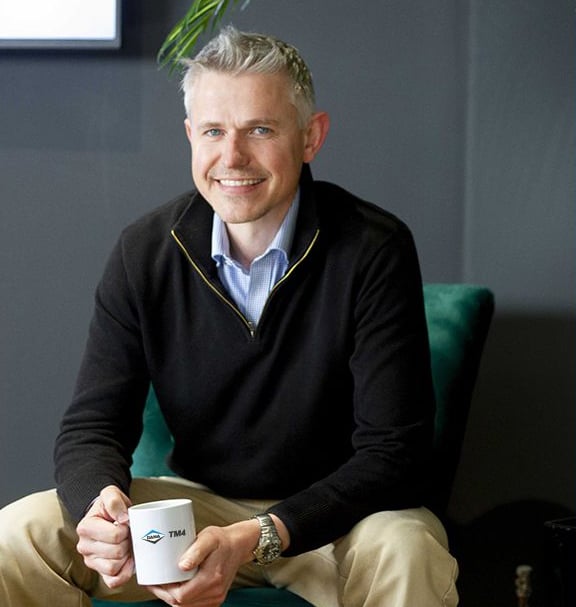 "It's a privilege to be part of it. We collaborate with Dana's other Technology Centers around the world to deepen our understanding, push new boundaries, and deliver for customers," Richard Strong, engineering manager at Dana TM4 Chudleigh, United Kingdom.
"Before joining Dana, I worked at Ashwoods Electric Motors where one day we got a call about a special project," said Richard. "Codenamed 'B23' it was clouded in secrecy. Once contracts were signed, we learnt we'd been asked to develop a traction system to propel a London Underground train for Skyfall, the 23rd Bond film."
"I soon found myself west of central London at Pinewood Studios with 007 Daniel Craig, director Sam Mendes, and a cut-down London Underground train stashing our bespoke traction equipment underneath. Just another day at the office."
As the third person to join Ashwoods, such electrifying moments were not uncommon during Richard's decade of innovation creating retrofit electric hybrid systems for light commercial vehicles.
Greater Than the Sum of Our Parts
In February 2020, Dana purchased Ashwoods which, in conjunction with recent acquisitions (TM4™, Oerlikon Drive Systems, Nordresa, Rational Motion, and Pi Innovo), positions Dana as the only supplier capable of producing all core components of a complete, fully integrated e-Drive system.
"The Dana acquisition allowed us to keep the best of Ashwoods driving a culture of innovation and embracing the high-volume excellence of Dana, working with the world's leading engineering specialties across a global support network."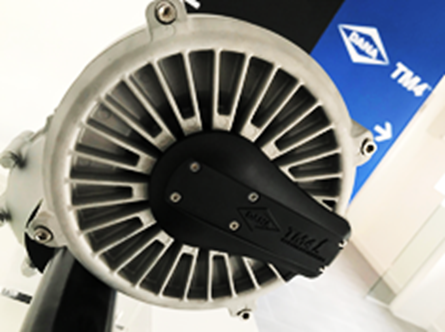 Dana TM4 lightweight, low-cost, low-voltage IPM motor incorporating cutting-edge motor technology and advanced encoder functionality tailored to suit a range of electrification applications.
"For example, a recent virtual design review allowed the engineering team at Chudleigh to liaise with experts across Dana globally in all manner of specialist fields. Lips seals, materials, bearings, castings, the list goes on. This is something a small startup just wouldn't be able to leverage. Field issues almost anywhere in the world can be supported on the ground by local Dana representatives — offering OEMs a trusted network of innovation and breakthrough technologies."
Design Optimization, Faster Turnaround
Globally dispersed across nine countries, Dana's Technology Centers comprise more than 2,200 of the world's leading engineers and technicians.
"Not only do we now have access to the various experts across Dana's business units, but we also collaborate with the other electrification Technology Centers to deepen our understanding, push new boundaries, and deliver for customers."
"This collaboration has facilitated access to powerful motor simulation software, something Ashwoods was unable to make use of on a permeant basis before. This means faster turnaround for customer enquiries, and enhanced design optimization and simulation before any metal is cut. A big leap forward for us here at Chudleigh and Dana's low voltage IPM motor range."
As part of a consortium, Dana TM4™ recently won a major UK government grant to support the development of an electric motorcycle for the BSA Company, an iconic British motorcycle brand, by providing an innovative, state-of-the-art Dana TM4 motor paired with a compact, power-dense inverter.
"The BSA brand has been relaunched and we are bringing major innovations in the form of advanced thermal motor management. This is a really exciting, advanced engineering project to be involved in and the innovations born from it will be rolled out across the future motor product portfolio."
Products That Move the World
Richard reflects on his involvement in the electrification industry for over ten years and how recently, Covid-19 challenges notwithstanding, things are starting to ramp up in the future mobility space.
"Some major OEMs are well underway on their electrification journey while others are only recently starting to dip their toe into the arena. Either way, Dana with its modular offering, vast network, and deep technological understanding is a great partner."
"As battery technology improves and becomes more commercially viable, so this industry will balloon. It's a privilege to be part of it. There are relationships to be built, customers to serve, and exciting new technologies and products to be developed. I look forward to many more years in this challenging and rapidly evolving market. Onwards and upwards."